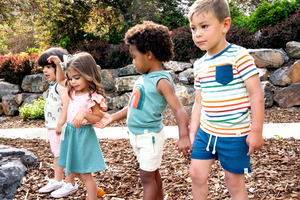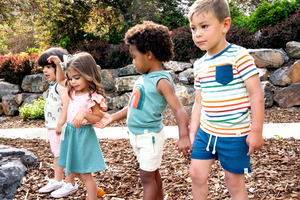 Made For Every Milestone
Our goal is to make unique, timeless, and functional pieces that can be worn for all life's special moments and then passed down with love. Our Limited edition collections are released monthly. Each collection is specially designed with a signature color palette and theme that makes it truly unique. Inspired by nature, each color helps paint a picture of the world our little road winds through. Our items are made from premium fabrics with a soft buttery feel and designed for comfort and function.
The Perfect Fit
We recommend following our size chart to get just the right fit. We do not reccomend sizing up.
Mix, Match, Wishlist
Please select a few of your favorites from our mix and match tool or from our LRC Partner collection and add them to your wishlist. Just select the add to wishlist button on the product page. This will prompt you to create a wishlist account so you can add your favorites. Then just email us back when your wishlist is created and we will get your items on their way!
Inspo Imagery
We have lined up some adorable looks to give you inspiration when shooting your content for social media.
Little Road Clothing is made to celebrate milestones! Focus on the product while telling the narrative of the special little moments and milestones in your little ones life.